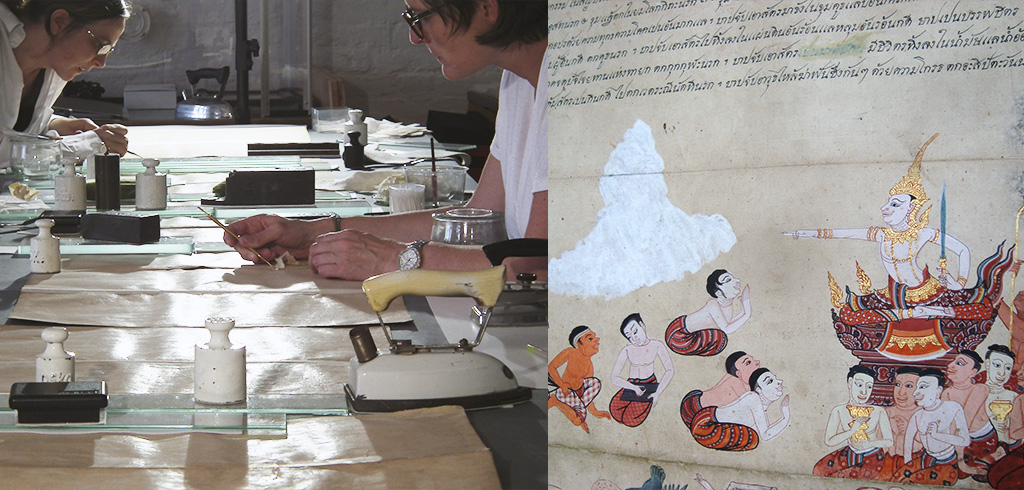 Ready for the Humboldt Forum – Insights into the restoration of the magnificent Trai-Phum manuscript
Date: Thursday, 28/09/2023, 6:00 pm
Meeting point: Museum in Dahlem / Small Lecture Hall at Takustraße 40
Speaker: Gesine Siedler & Katharina Siedler
One of the largest folding manuscripts in the world is the Thai Trai-Phum (= Three Worlds) from 1776. Despite the excellent quality of the paper and paintings, years of use and exposure to moisture have caused considerable damage. The magnificent manuscript has had to be repaired and restored several times. In our presentation, we will explain the restoration work that has been carried out to ensure that the manuscript can be safely handled and exhibited in the Humboldt Forum without the risk of further damage.
Gesine Siedler, B.A., is a book and paper conservator. She has received a wide range of training in workshops in various countries including Italy, the USA and Germany. She is a master bookbinder, a certified bookbinder for restoration (Buchbinder-Kolleg Stuttgart) and studied preventive conservation at the HAWK Hildesheim. Since 1993 Gesine Siedler has worked as a freelance conservator for numerous museums, libraries, archives and private clients.
Katharina Siedler, M.A. MFA, is a papermaker specialising in the reconstruction of historical papers. She studied History and Eastern European Studies (Freie Universität Berlin) and Book Arts (Center for the Book, University of Iowa, USA). Since 2005, Katharina Siedler has been working in Berlin for various museums and archives.